This site is dedicated to various material inspired by Jeff Buckley, below is just one example.

Hell while we're at it,

ask him for a tab of Woke Up In a Strange Place

ask him whose key it is on the album cover

ask him why the clocks are all the same time

ask him what a Mojo Pin is

ask him what he has in common with Michael Bolton

ask him if he believes in the after life

ask him his strangest dream

ask him his favourite wine

ask him the meaning of life

ask him what is he doing in memphis not adelaide

and damn it ask him when he's visiting australian shores again!

Hell, I might ask him for a loan.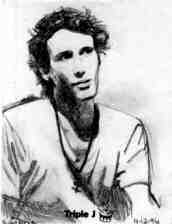 You may now enter...
&nbsp
You have been here
thousand times! aren't you special...
...created wednesday 11 of September 1996
...changed sunday 14 of October 2001
all images seen are created by me (ie I drew it) all other images are credited